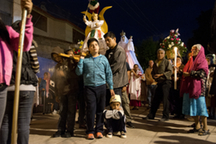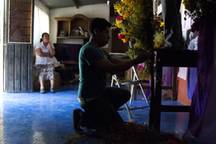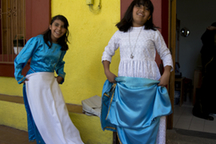 Project Statement: Catolicismo
The del agua in "San Felipe del Agua" refers to the fact that a portion of the water from which the colonial Mexican city of Oaxaca lives, flows down from the gem green hills behind what was once a town but now exists as the edge of the larger city: lambs, donkeys, tropical flowers, and a half-hour bus ride to the center of a cosmopolitan metropolis. Those born in San Felipe have a separate set of rights and responsibilities to the community than those who move here. Those who move here tend to bring wealth, and often live behind high walls and drive dark-tinted SUVs.

My family and I lived in Mexico for one year and chose San Felipe because we found a wonderful school there for our children. Having grown up in New Mexico I have always been attracted to Catholic imagery and Guadalupe, growing up atheist I have always been fascinated by faith. And so, in Mexico, I photographed our neighborhood parish.

* * * * * * * * * * * * * * *

The photo essays resulting from this study will be published in the New Mexico Mercury from October 2014 through June 2015, roughly once a month on the date corresponding to the event photographed one year previous.